(almost) every Sunday, the following events occur: after prying my eyes open, rolling out of bed and making breakfast, I strap on my body armour and head to Costco…you know, just in case I get sidelined by a soccer mom on a mission. I have my list in-hand so I don't waste any time stuck behind the people who just go to eat the samples for lunch. I stock my cart and zip to the check-out line. BAM. in and out in less than 40 minutes every time. 
next, I hit up Giant for the extras. those little things you can't get at Costco without buying five hundred. in and out in less than 15 minutes. I'm on my way home, a thousand dollars of groceries in the back seat, and a smile on my face. why? because I know what comes next. every Sunday, after grocery shopping, my wonderful boyfriend and I stop at Tropical Smoothie to get a protein shake…smoothie. the fridge is empty, and we know we'll be prepping for the new few hours, so we fuel up. my personal favourite is the Island Green Detox Smoothie (no added sugar) with an added scoop of pea protein powder. yum!
after arriving home and making at least seven trips from the car to the kitchen, the work begins!
because I'm a bit of a control freak, and because nutrition is my job, I design weekly menus for us to follow. so we know exactly what we're eating on what day and for what meal. tedious? yes. but a super helpful time saver and excuse eliminator? hell yes. the recipes change from week to week. lunches and dinners vary based on what we're in the mood for, however, a few things always remain the same. a. protein. we eat a lot of it. b. vegetables. we might as well be rabbits. and c. peanut butter protein balls. we ALWAYS find a way to fit these babies into our weekly menu. it's like a cookie, without the extra sugar. one serving has the same amount of calories (130) and protein (7g) as an ounce of almonds, but tastes so much better! they taste so good you almost feel guilty eating them (but don't, because that would defeat the purpose).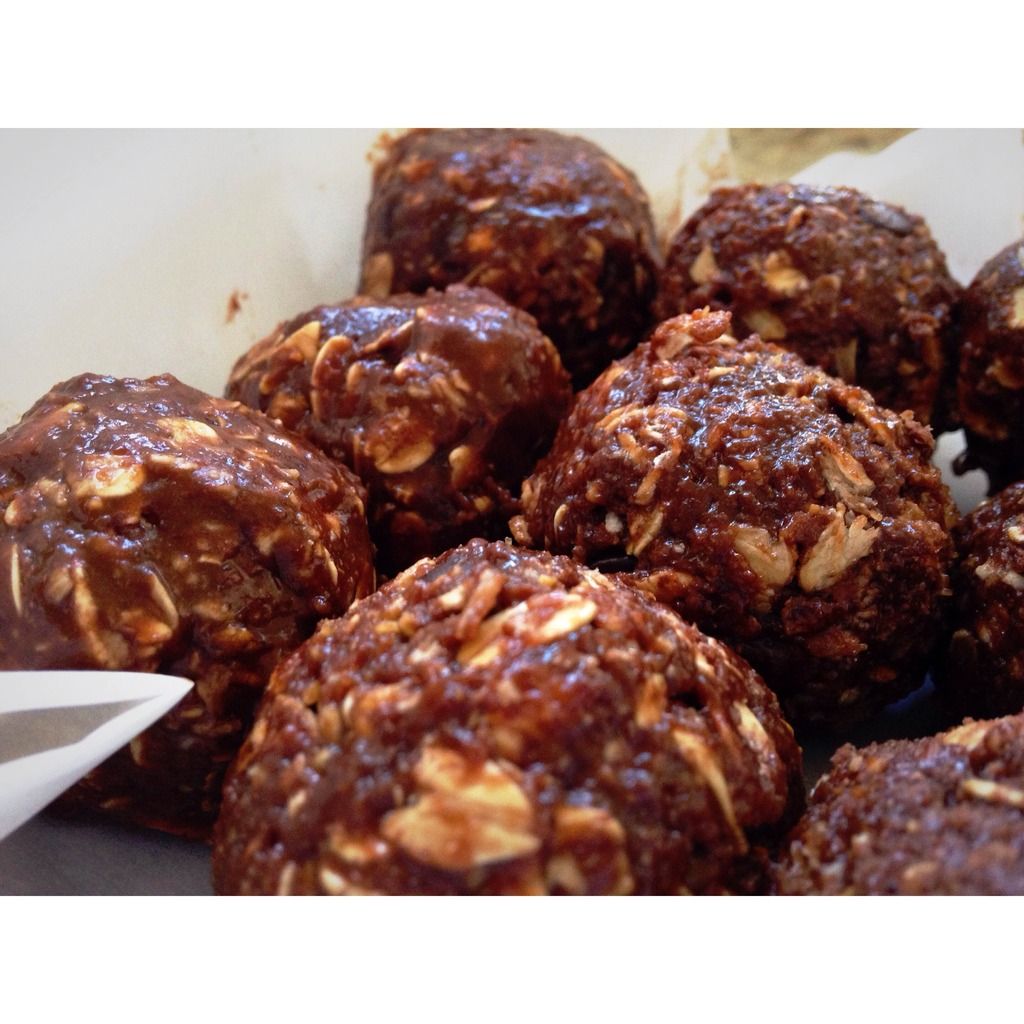 I play with the recipe a little bit every time, but here's the latest batch:
Ingredients:
- 1 1/2 cups oats
- 3 scoops of protein powder (I use Pure Vegan pea protein, vanilla)
- 1 TBSP unsweetened cocoa powder
- 1 tsp vanilla extract
- 2 TBSP milled flaxseed (if you forget this, they'll become runny)
- 1/4 cup honey or maple syrup
- 1/3 cup natural peanut/almond butter
- 1/3 cup coconut butter (you can skip this and double the peanut butter, if you prefer)
- 1/4 cup unsweetened almond milk
- 2 TBSP dairy-free dark chocolate chips
Directions: combine all ingredients in a small bowl and mix until fully incorporated. ff you're having a hard time manipulating the dough, feel free to add more milk, although, not too much. the mixture should be sticky. using wet hands, roll dough into 1" balls and layer in a Tupperware container, separating layers with parchment paper. recipes makes 18 balls.
I've experimented with adding shredded coconut, chopped pecans and agave nectar in place of various ingredients, so feel free to try something new! but be warned, make sure you exert portion control. these things are moorish (a word I picked up in England meaning you just want to eat more and more and more!)
the moral of the story: nutrition should be fun. and tasty. but intentional.
make a plan. stick to it. and make sure to include something sweet.
Eat well. Live well. Be well.