here are a few background facts: 1. I choose to eat healthy. I like the way it makes me feel, how it helps my lifts + knowing that I'm doing my body good by feeding it well.
2. I write specifically designed menus for clients in order to help them reach their goals (be it fat loss, muscle gain, or general health).
3. I also write menus for myself, and for my boyfriend so he can be big and strong.
4. Occasionally, we like to veer off-menu and enjoy something spontaneous.
5. Spontaneous, scrumptious, but still nutritious.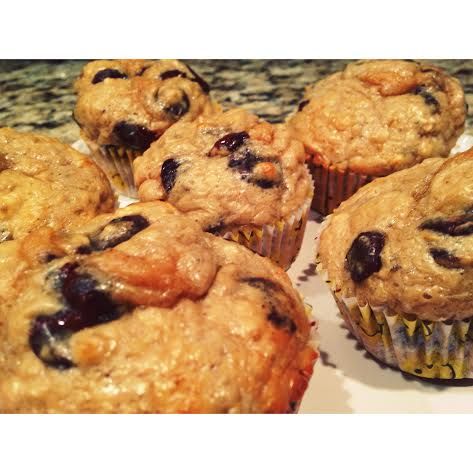 Enter the Peanut Butter Banana Protein Muffins (serves 6)
Ingredients:
- 2 TBSP Peanut Butter
- 1 medium Banana, Mashed
- ¼ cup Uncooked Oatmeal
- 1 Whole Egg
- ½ cup Liquid Egg Whites
- 1 Scoop Vanilla Protein Powder
- 1 tsp Baking Powder
- 2 heaping TBSP dark chocolate chips
Directions:
Preheat oven to 350 degrees F.
In a small bowl, hand- mix all ingredients together. (I mashed my banana with a spoon and then added all the other ingredients)
Line muffin tin with parchment liners or coat with non-stick cooking spray.
Fill each muffin tin until you are out of batter.
Place tray in the center rack of the oven and allow to cook for 12-14 minutes, or until a toothpick comes out clean.
The tops of your muffins should be a golden brown, and the chocolate chips should be beautiful and melty.
Calories (per muffin): 133 Fat: 6g Carbs: 12g Protein: 9g 
Eat well. Live well. Be well.