Last night my nose was running, my cheeks were slightly flushed and my tongue was on fire. A weird strain of the flu? Nope. Just a delicious bowl of Caveman Chili. For dinner last night, I served this dish over cauli-rice (one of my favourite sides ever) and today I happily had the leftovers on top of a salad. Mmm mmmm.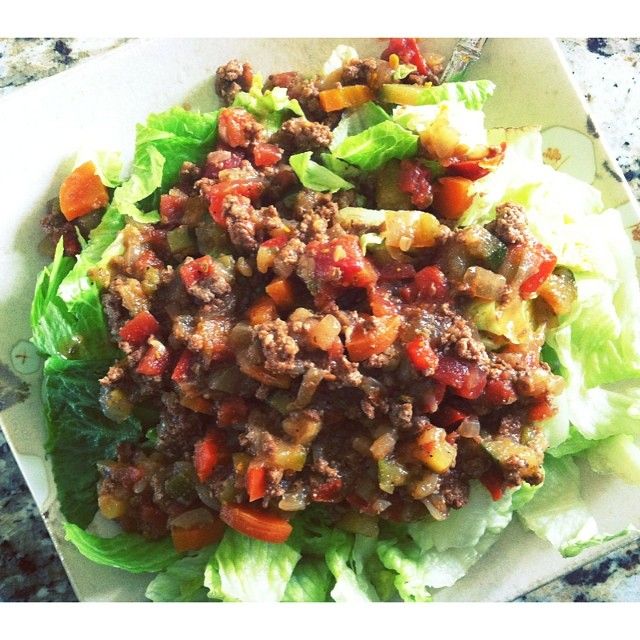 Serves: 8
Ingredients:
2 medium yellow onions, chopped
2 medium zucchini, chopped
2 large carrots, chopped
4 cloves garlic, minced
2 green bell peppers, chopped
2 pounds of ground beef (or turkey)
14 ounces tomatoes, canned, drained, chopped
4 ounces green chilies, canned, chopped
2 tsp ground cumin
1 tbsp dried oregano
1 tsp cayenne pepper (more/less, to taste)
1 tsp freshly ground black pepper
1 tsp salt
1 cup beef or chicken broth
Cauliflower Rice
2 heads of cauliflower, cut into florets
2 TBSP coconut oil
2 cloves garlic
basil and ground pepper, to taste
Directions:
Caveman Chili
In a medium sized saute pan, saute onions, peppers, and garlic until they become soft and translucent.
Add crumbled ground beef/turkey and cook until brown.
Drain off excess fat and transfer the meat and chopped vegetables to crock pot.
Add all the remaining ingredients and mix well.
Cover and cook on low for 6 hours.
Enjoy and serve!
Cauliflower Rice
Heat coconut oil in a large skillet over medium-high heat.
Cut cauliflower into small bite-sized florets. Toss into a food processor (You can also use a cheese grater).
Once cauliflower has taken on a rice-like consistency, add to skillet.
Add minced garlic, basil and pepper (or seasonings of your choice), stirring frequently.
Once cauliflower softens and browns slightly on the edges, remove from heat and serve under a heaping ladle full of chili!
We love to use this recipe in our house because it's something you can toss together in the crock pot before work, forget about all day and have dinner ready in less than 20 minutes! Easy to make and easy to eat. This is a perfect meal to make a large batch of to store in the fridge for the week. You can always toss in extra veggies or omit a few if you don't have them on hand and it still promises to be filling and savoury.
Eat well. Live well. Be well.