Easter is here! And if your family is anything like mine you probably have a lot of eggs lying around…eggs for hiding, eggs for dying, eggs for eating (and I don't mean the chocolate kind)…so what are you going to make with all those eggs? Try these fantastic (I almost said eggsellent, but rest assured, I edited) recipes from Skinnytaste.com: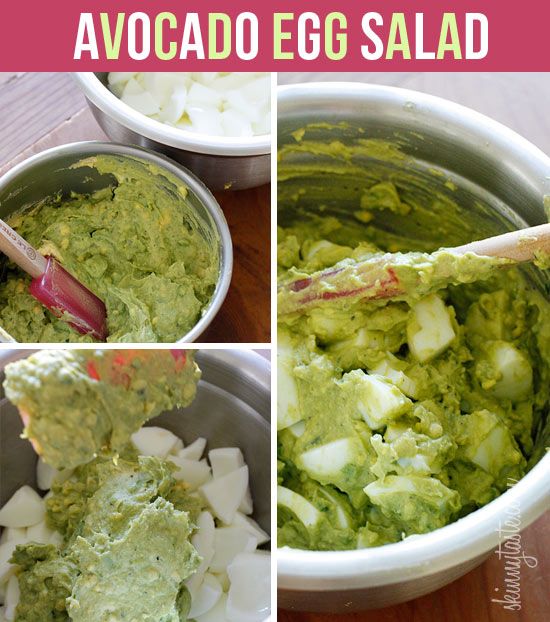 Avocado Egg Salad Servings: 6 • Size: 1/2 cup • Calories: 154.7 • Fat: 11.7 g • Protein: 9.3 g • Carb: 4.6 g • Fiber: 3 g • 
Ingredients:
4 large hard-boiled eggs, chopped
4 hard boiled egg whites, chopped (discard the rest)
1 medium avocado, cut into 1/2-inch pieces
1 tbsp light mayonnaise (I use olive oil mayo)
1 tbsp fat free plain yogurt
1/2 tablespoon finely chopped chives
2 teaspoons red wine vinegar
1/2 tsp Kosher salt
pinch freshly ground pepper
Directions:
Combine the egg yolks with the avocado, mayo, yogurt, chives, vinegar, salt and pepper. Mash with a fork. Combine with egg whites and adjust salt as needed. Easy as 1-2-3 and perfect for when you don't feel like cooking (or maybe you've been cooking all day and you don't feel like cooking…again). Add to salads, wraps and sandwiches.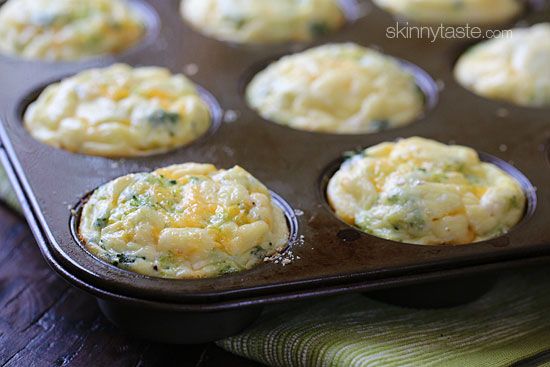 Broccoli and Cheese Mini Egg Omelettes Servings: 4 1/2 • Size: 2 omelets • Calories: 167 • Fat: 8.5 g • Carb: 5 g • Fiber: 2.5 g • Protein: 18 g • 
Ingredients: 
4 cups broccoli florets
4 whole large eggs
1 cup egg whites
1/4 cup reduced fat shredded cheddar
1/4 c. grated cheese of your choice
1 tsp olive oil
salt and fresh pepper
cooking spray
Directions:  Preheat oven to 350°. Steam broccoli with a little water for about 6-7 minutes. When broccoli is cooked, crumble into smaller pieces and add olive oil, salt and pepper. Mix well. Spray your non-stick cupcake tin with cooking spray and spoon broccoli mixture evenly into 9 tins. In a medium bowl, beat egg whites, eggs, grated cheese, salt and pepper. Pour into greased tins over broccoli until a little more than 3/4 full. Top with grated cheddar and bake for about 20 minutes. Serve immediately. Store leftovers in the refrigerator to enjoy during the week.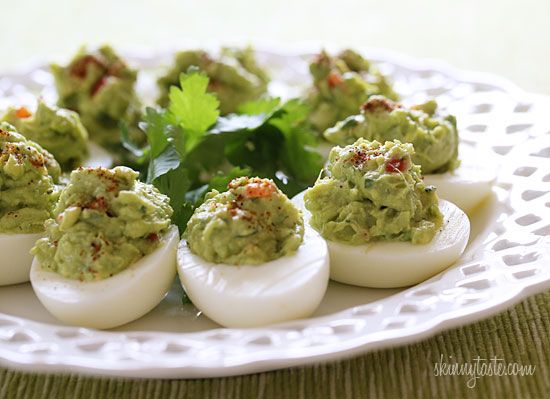 Guacamole Deviled Eggs Servings: 12 • Size: 1 piece • Calories: 44 • Fat: 3 g • Protein: 3 g • Carb: 2 g • Fiber: 1 g • 
Ingredients:
1 medium avocado
2-3 tsp fresh lime juice
1 tsp red onion, minced
1 tbsp minced jalapeno
1 tbsp fresh cilantro, chopped
kosher salt and fresh ground pepper, to taste
1 tbsp diced tomato
pinch chile powder (for garnish)
Directions: Peel the cooled hard boiled eggs. Cut the eggs in half horizontally, and set the yolks aside. In a bowl, mash the avocado and 2 whole egg yolks; discard the rest. Mix in lime juice, red onion, jalapeño, cilantro, salt and pepper and adjust to taste. Gently fold in tomato. Scoop heaping spoonfuls of the guacamole into the 12 halved eggs. Sprinkle with a little chile powder for color and enjoy. If you happen to have guacamole on-hand, this process becomes a lot easier!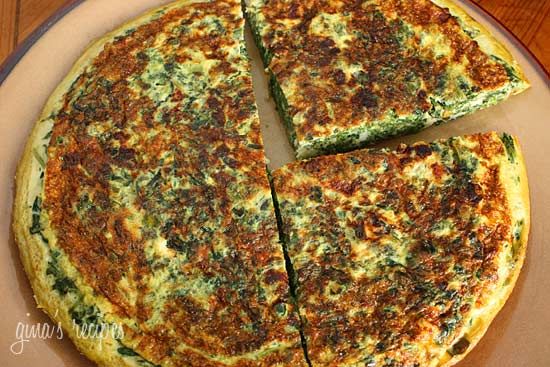 Light Spinach and Feta Frittata Servings: 4 servings • Serving Size: 1/4 of frittata • Calories: 140.6 • Fat: 6.8 • Carbs: 5.5 • Fiber: 2.2 g • Protein: 15.2
Ingredients:
2 whole eggs
8 large egg whites
1 tsp olive oil
1/2 red onion, finely chopped
3 scallions, chopped
10 oz frozen chopped spinach, thawed
2 oz crumbled feta
2 tbsp Parmigiano-Reggiano, grated
salt and freshly ground pepper
Directions: Squeeze all water from spinach. In a 9 inch non-stick sauté pan, heat olive oil over medium heat. Add the onion and scallions and cook until soft, about 4 minutes. Meanwhile in a medium bowl, beat the eggs. Add salt, pepper, cheeses and spinach and mix well. Pour the mixture into the skillet and cook for approximately 10 minutes (or until egg mixture sets). Serve hot.
and for the sweet toothed foodies among us...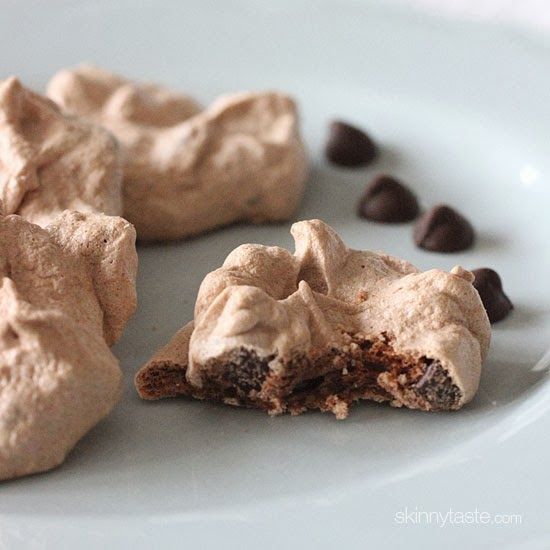 Chocolate Chip Clouds Servings: 30 • Serving Size: 1 cookie • Calories: 53.7 • Fat: 2.2 g • Carb: 8.4 g • Fiber: 1.7 g • Protein: 1.1 g
Ingredients: 
1/2 cup egg whites (room temperature)
1/8 tsp cream of tartar
1/2 cup sugar
1 tsp vanilla extract
2 tbsp unsweetened cocoa powder
1 cup chocolate chips
Directions:  Heat oven to 300°F. Cover cookie sheet with silpat/nonstick silicone pad. Using a mixer, beat the egg whites and cream of tartar together in large bowl at high speed until soft peaks form. Gradually add sugar a little at a time, then vanilla, beating well after each addition until you get stiff peaks, the sugar is dissolved and the mixture is glossy. Sift cocoa onto egg white mixture; gently fold until combined. Fold in chocolate chips. Drop mixture by heaping tablespoons onto cookie sheet. Makes aprox. 30 cookies. Bake 34-40 minutes or just until dry. Cool slightly; remove from cookie sheet. Cool completely on wire rack. Store covered, at room temperature.
Have a Happy, Healthy Easter!
Eat well. Live well. Be well.