Breakfast cupcakes sounds so much more enticing, don't they? But regardless, these babies are delish.
I'm sure all of you wake up whenever you want to and leisurely go about your morning. Faced with endless time to take long, hot showers and peruse the fridge in order to see what culinary delight you want to start your day with…juuuuuust kidding. We're all crazy people in the morning, choosing whether to brush our teeth quickly or just pop a piece of gum. Get the kids dressed or pack lunches…you can always say you thought it was pyjama day. What I'm trying to say is, mornings are hard. So breakfast should be easy. This recipe is going to make your morning. Why? Because I just spent 15 minutes making breakfast for the entire week…and I don't even have kids to get on the bus so just imagine what I'm going to do with all that free time!!!!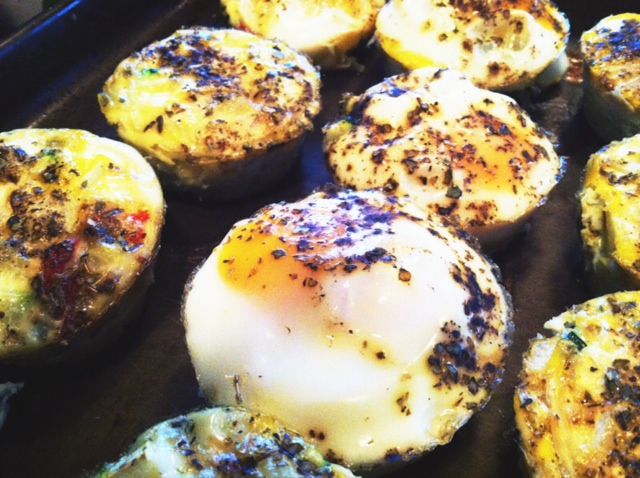 Egg Muffin RECIPE: think of it like a cupcake. 
Serves: 12
Ingredients:
- 12 whole eggs
- 3/4 cup liquid egg whites
- 1 cup red pepper, diced
- 1 cup onion, diced
- 1 cup zucchini, shredded (or spinach, or asparagus, or mushrooms)
- 6 slices of bacon, cooked
- fresh ground pepper, to taste
- oregano, to taste
Directions: 1. Preheat oven to 350. 2. Coat your non-stick pan with olive oil spray (or PAM) to ensure a smooth removal. 3. Line the bottom of your pan with crumbled bacon (about 1/2 a slice per muffin). I've also used cooked ground turkey which is just as delicious. 4. Spread chopped veggies evenly throughout the muffin tins. I don't measure this out, but just sprinkle according to my eye scale. ;) 5. In a medium sized bowl, scramble eggs and egg whites. You can use all whole eggs or all egg whites, but I prefer a mixture of both. 6.  Pour mixture into muffin tins on top of veggies. Fill 'em to the top! 7. Add a dash of ground pepper and oregano to each muffin. 8. Pop them in the oven and cook for approximately 20 minutes…or until they don't jiggle in the middle.
The convenient thing about this recipe is that you can use any variety of protein and vegetables you choose. Bacon, ground turkey, ham, cheese, mushrooms, onions, peppers, broccoli, spinach, etc. Whatever you'd put in an omelette you can throw in these! It's like a mini omelette muffin! Make them ahead of time and store in the fridge or freezer.
Your busy morning just got a heckuva lot easier.
Eat well. Live well. Be well.