After arriving home from a killer workout at the gym I wanted to refuel with something protein-heavy and hearty. Since I'll be flying later today and snacking on finger-foods for dinner, I wanted to make sure I filled up on the good stuff before takeoff time. I dug around to see what I could scrounge up and settled on eggs. Always a winner, right? I decided to make a single-serving frittata (because I won't be home to enjoy the leftovers). But since most of you are cooking for families and/or preparing your meals for the week, I'll include the entire recipe: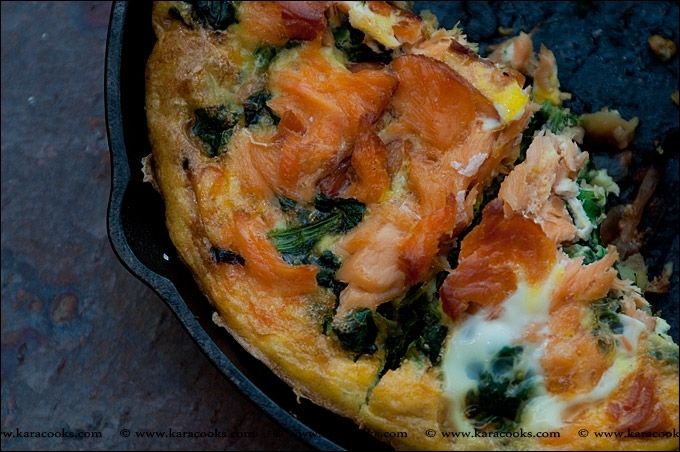 Serves: 2-4
Ingredients: 
- 8 whole eggs
- 1 cups of spinach, fresh or frozen
- 1 yellow onion, sliced + diced
- 1 clove garlic
- 1 TBSP. olive oil, butter or bacon grease
- 4 oz. wild pink salmon
- peppa + salt, to taste
** optional: add 4 small fingerling potatoes
Directions: Sautee onion with olive oil/butter/bacon grease over medium heat until tender. Add garlic and continue to cook for a bit longer. Add spinach (if you're using frozen spinach, make sure you drain it before adding to the recipe). If you're choosing to add potatoes you can soften them in the microwave separately, slice into thin rounds and layer on top. Flake salmon and layer on top of veggies/potatoes. Whisk eggs together and pour the mixture evenly over the top. Cook on stovetop for 10 minutes, transferring to the oven for an additional 20 minutes (or until eggs are set and slightly browned on the edges). Remove, slice into quarters and enjoy!
Using what I had on hand, I chose to use 1 whole egg and 3/4 c. of liquid egg whites as well as a 4oz package of drained, wild Alaskan salmon. Since I'm still following the paleo plan, I chose to forego the potatoes and topped my eggs with 2 TBSP of medium salsa for a little punch! Mmmm mmm. I wasn't disappointed. I was warm, full and satisfied. Adding salmon to eggs isn't something I grew up doing, but having lived in the UK for a year, I learned that it's quite a hot commodity in some parts of the world! And I'm not the only one who agrees. This recipe got 4.5 stars (out of 5) over at cookeatshare.com! We should start making it a thing in the US. Who's with me!?
What do you like to add to your eggs?
Eat well. Live well. Be well.