On the menu today for lunch: A mustard + thyme glazed chicken breast over a bed of greens. Once again, I found this to be super quick and easy to make. Last night I defrosted a few chicken breasts (the recipe calls for thighs but I'm not a huge fan of dark meat, so I substituted light and reduced the cook time) and pre-made this meal in 35 minutes.
Ingredients:
- 2  chicken breasts
- 1/8 c. coconut oil, butter or bacon grease
- 2 TBSP. dijon mustard (gluten-free)
- 1/2 tsp thyme
Set oven to 375 degrees. Combine mustard, oil/butter, thyme, salt and pepper (to taste). Line a baking sheet with tin foil. Coat the chicken breasts with the dijon mixture and bake for 30 minutes. Cook time may be longer for thicker pieces of meat.
I enjoyed mine over a spinach salad with a drizzle of EVOO and balsamic vinegar. Yum!
In review: At first glance my glazed chicken didn't look so hot. The dijon became lumpy and separated from the coconut oil. My mom quickly reminded me that, "they don't have to look good as long as they taste good!" And they sure did! The mustard marinade added the perfect hint of flavor. I can't wait to use the leftovers! 
Dinner: Skirt Steak + Roasted Brussel Sprouts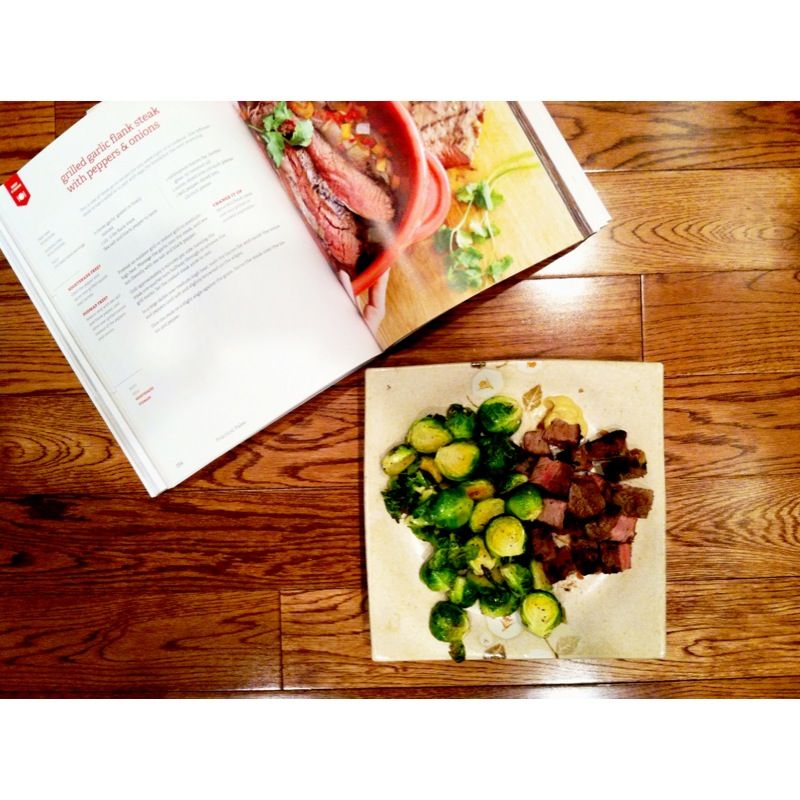 This was my first time every making a steak and I must say, I was pretty impressed with the end result!
Ingredients:
- 1lb. skirt steak
- 3 cloves garlic
- salt and pepper to taste
- 1 package of brussel sprouts
- 1 TBSP olive oil
- 1 tsp. lemon pepper
I massaged my pressed garlic, sea salt and pepper into the steak (this was a strange experience. I've never massaged meat before.) After putting a pan on medium-high heat I started searing my steak, approximately 5 minutes on each side. While cooking that up line a baking sheet with tin foil. Sliced brussels in half, tossing them in a large Ziplock bag with olive oil and lemon pepper. Shake 'em up, evenly distribute on the baking tray and cook for 20-ish minutes at 375 degrees F, or until the edges are crispy and golden. Once the steak is to desired doneness, remove from heat and allow it to rest. Ta-da. Another meal, ready to go!
In review: This was banging. You can't go wrong with brussel sprouts! I did add a touch of mustard on the side since A1 sauce is out of the question on the Paleo diet. None of that artificial garbage. Feed me the good stuff! 
Eat well. Live well. Be well.